Bio
When one thinks of the epitome of a 'blues band', the first thing that comes to mind is not a couple of Canadian kids coming of age in the 1980s. This is not your typical, run of the mill 12-bar blues about lost lovers, big-legged women, whiskey, church and sinnin'. This is a new voice and a new vehicle for the blues. This is Wide Mouth Mason.
Wide Mouth Mason formed in 1995 in Saskatoon, Saskatchewan and released their debut album, The Nazarene, in 1996, drawing immediate interest and attention from the Canadian music industry. It was re-recorded songs from that debut, as well as some new songs on their 1997 self-titled sophomore recording that cemented a major label record deal, Gold status in Canada, a JUNO nomination for Best New Group, and launched the career of one of the country's most popular blues-based rock bands.
And the hits kept coming… In the years to follow, Wide Mouth Mason had another Gold record with 1999's Where I Started, and another JUNO nomination for Best Rock Album for their Y2K release Stew, two invitations to perform at the esteemed Montreux Jazz Festival in Switzerland as well as extensive tours with AC/DC, ZZ Top and The Rolling Stones. Not too shabby for a couple of Canadian kids on the Prairies.
Fast forward to 2019, where we find Wide Mouth Mason as a duo with original members Shaun Verreault on vocals, guitars, and Safwan Javed on percussions and vocals. Their 8th release, I Wanna Go With You, was released on indie label We Are Busy Bodies on October 25, 2019. It is Wide Mouth Mason reinvented and unapologetically blues.
"The blues has always been one of the musical primary colours for us – the middle ten letters of our alphabet – but on this album we just dove all the way into it", says Verreault. "People familiar with our work may be expecting a blues centric record by us to be one of those "six choruses slinging incendiary strat solos over a slow 12-bar classic" kind of records. And though I like some of those records, this ain't that."
Of the 12 songs on I Wanna Go With You, all but one features Verreault's stunning and innovative guitar style dubbed threestyle, or trislide lap steel. Wearing three slides with rounded tips on his left hand, Verreault is able to simultaneously play chords and sliding melodies on resonator/dobro guitar and electric lap steel.
From the rumbling train-like rhythm of the opening track "Bodies In Motion" it is clear that the album's theme is about travel. Transition. Moving from one place to the next. Reinvention. Sometimes you take the "High Road", sometimes you hit "Every Red Light", but if you've got good company, the hours fly by. In keeping with the band's history of hit songs, the track "Anywhere" will surely become a road trip anthem for the young and young at heart.
Other notable songs on I Wanna Go With You include "Only Child", an autobiographical piece. "Safwan and I are both an only child and so is my daughter. Alone doesn't mean lonely, necessarily", says Verreault. "Modern Love" is a gritty, stomping, bluesy take on the David Bowie classic and features Shawn "The Harpoonist" Hall on harmonica. "Erase Any Trace" is a heavy, blues-rock number that was co-written by Vancouver Island guitarist David Gogo. Also appearing on the album are Kelly "Mr. Chill" Hoppe of Big Sugar who blew harp on "Outsourced "and Vancouver soul singer Tonye Aganaba showcased her whiskey and honey voice on "Every Red Light"
Recorded by Ryan Dahle (Limblifter, Age Of Electric, Mounties), who also plays bass on some of the songs, the album was tracked live with Verreault and Javed perfecting the songs and capturing the moment as a song was played no more than a couple times before being nailed down convincingly.
On returning to their roots, Javed had this to say, "Wide Mouth Mason was originally formed as a blues band, and this album is us embracing our blues roots. Here we are unequivocally stating we are a blues band at our core."
I Wanna Go With You is an incredibly creative and refreshing blues record from one of Canada's most beloved bands. It is everything that long time Wide Mouth Mason fans have been waiting for and everything new fans didn't even know they needed.
Read more
Video
Bandcamp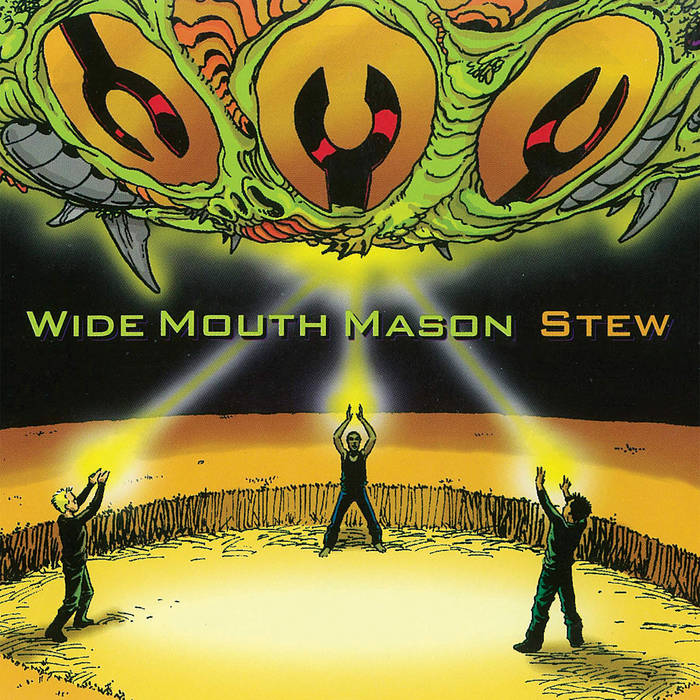 Tour